EXTRA VIRGIN OLIVE OIL
MORAIOLO
Essay olfactory and tasting
Fragrance of olive and wood, slightly pungent, hints of bitter herbs, exotic fruit, artichoke and spices. Bitter and spicy taste balanced with each other with fruity enhanced by hints of green almond.

Serving Suggestions
Legumes salads, pasta, garlic, oil and chilli, pinzimonio, bruschetta, tasty soups, red meats, lentils, beans, roasted mushrooms. Essay olfactory and tasting
FRANTOIO
Essay olfactory and tasting

Scent of olives, grassy, ​​pungent scent of herbs, taste bitter almond, artichoke, spicy, bitter, balanced, floral notes.
Serving Suggestions
Salads, soups, bruschetta, pasta dishes, tasty fish,
velvety chickpeas and / or celery, omelettes with artichokes, asparagus.
LECCINO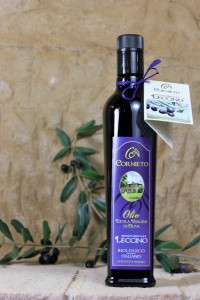 Essay olfactory and tasting
Scent of olives, herbaceous, slightly pungent taste of almond, sweet, spicy and slightly bitter aftertaste, floral notes and apple.
Serving Suggestions
Delicate dishes and subtle aromatic notes. Delicate fish and steamed as sole or plaice. In the preparation of sweets and ice cream, in risotto, in the preparation of mayonnaise, salad of barley, velvety pumpkin and leek, weaning babies, for all those who love delicate flavors.
Our oil is produced from olives grown organically on our farm of 30 acres at 450mt above sea level on the hills between Umbria and Tuscany.
The installation of 6 hectares of olive grove was planted in 1998 on the basis of a project which planned to obtain the mono-varietal oils derived from cultivars typical of the area: MORAIOLO, FRANTOIO, LECCINO.
The olives are harvested manually, to the right degree of ripeness,start from the middle of October.
The olives harvested are milled in the same day, so they do not undergo a process of oxidation and qualitative degradation, to the nearby oil mill that uses the method of continuous cold extraction (processing temperature not higher than 27 ° degrees) then:
The excellent geographical location and climate that reduce pest attacks;
The separation of the cultivars which allows the collection of the same staggered to achieve the right level of maturity for each variety;
Manually harvesting that reduces the time and respects the integrity of the plant and the olive;
Certified organic cultivation and traced, crop care constants (rational pruning, fertilizing, organic soil management);
The method of cold extraction within 24 hours of collection;
Care in storing oil away from sources of heat, direct sunlight and oxygen;
All of the above said helps to make our organic olive oil a product of high nutritional value and taste , rich in polyphenols , low acidity and low peroxide value.