EXCURSION 1:  Farm "Cornieto" – Montepulciano – Pienza – Montalcino – and return to farm "Cornieto. (about Km 180)
Once you leave Cornieto farm and reached the main road, turn left and get to "Fabro Scalo" where to take the signs to "Chiusi". Take the road to the valley along the river always "Chiani" in the valley of the same name (ancient reclaimed swamp) and after 20 km you reach Chiusi. From here, follow the signs for Montepulciano (home of Poliziano – century church of San Biagio by Antonio da Sangallo the Elder) and visit the cellars where the wine is produced "Nobile" of Montepulciano. We traveled about 40 miles and we start following the signs to Pienza (about 20Km).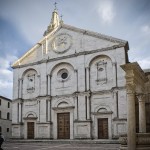 The town overlooking the Val d'Orcia, was born to celebrate Andrea Silvio Piccolomini, who became Pope Pius II. Pienza is the product of the ideas of the early Renaissance town planning in fact, thanks to the medieval town Piccolomini became an exemplary model of the city according to the theoretical elaboration humanistic Renaissance. Famous cheeses and cured meats of Pienza. We leave the town heading towards San Quirico d'Orcia where you take on the Cassia road for a short distance, we are going to reach Montalcino (25 km) last leg of our trip and the place of production of "Brunello di Montalcino".
Worthy of note is the central "Via del Corso" forged according to the principles medieval building where they appear as special singular "Scales of the citizen" or small windows bricked for children at different times, but obvious to the side of the large windows at 18. Even the Church of St. Augustine of Romanesque-Gothic style, the cathedral and nearby the picturesque abbey of St. Antimo ( Gregorian chant ). We just have to go back to the farm following the same route.